Molkky
Part No.: 2010009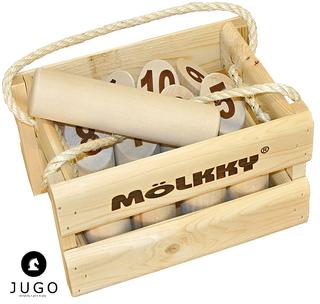 Molkky/Number Kubb – Hard to say, easy to play!
Sometimes the simplest games are the best. Molkky (or known as Number Kubb) takes just a few moments to set up and grasp the rules. Then, all you need are a few friends or family members and the fun begins.
Tailor-made from wood from sustainable Finnish forests, Molkky is an outdoor skittle-throwing game that can be safely enjoyed by everyone, regardless of age or physical fitness level.
Molkky is a fun combination of chance and skill that's quick to learn and exciting to play. Take turns to throw the Molkky skittle to try and knock over various numbered pins. The aim of the game is to score exactly 50 points. But watch out, if you get more than 50, your score will be knocked back down to 25!
Molkky can be enjoyed in any outdoor space – from your back garden to the local park. Play one-on-one or get a team together – the more the merrier!

A crate of fun
Molkky pins (numbered from 1 to 12) – uniquely shaped and tailor-made from 100% natural wood from sustainable Finnish forests. Easy to stand up (stable even on uneven surfaces) and simple to knock down.
Molkky throwing skittle – lightweight and easy to throw for all members of the family.
Handy carrying crate – made from the same high-quality wood, this robust crate is ideal for storing the game. And the strong rope straps make it easy to carry Molkky wherever you want to go.
Rules – clear instructions and helpful pictures ensure the game gets under way quickly and prevent any misunderstandings. You only have to concentrate on having fun.
Scorecard – no need to try and remember your scores; just use this handy scorecard. And don't forget, the aim of the game is to reach 50 points – exactly!
Dimensions (cm) – 33 (l) x 22 (w) x 19 (h). As Molkky is made from 100% wood, exact dimensions may vary.
Weight – 4.390 kg.
Selling unit: Each
£40.00 online price